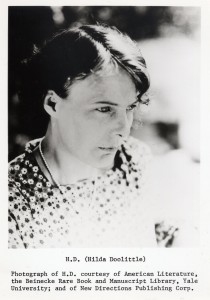 Welcome to the new H.D International Society Web site.
On this site, we will offer details about society membership, events, and calls for papers. We will also curate a number of online H.D. resources and offer tips for scholars who wish to study H.D. (Hilda Doolittle) in the archives of the Beinecke Special Collections Library or elsewhere.
Please feel free to add your own comments, updates, and posts about H.D. information here as well.
Celena Kusch and Rebecca Walsh, co-chairs, H.D. International Society